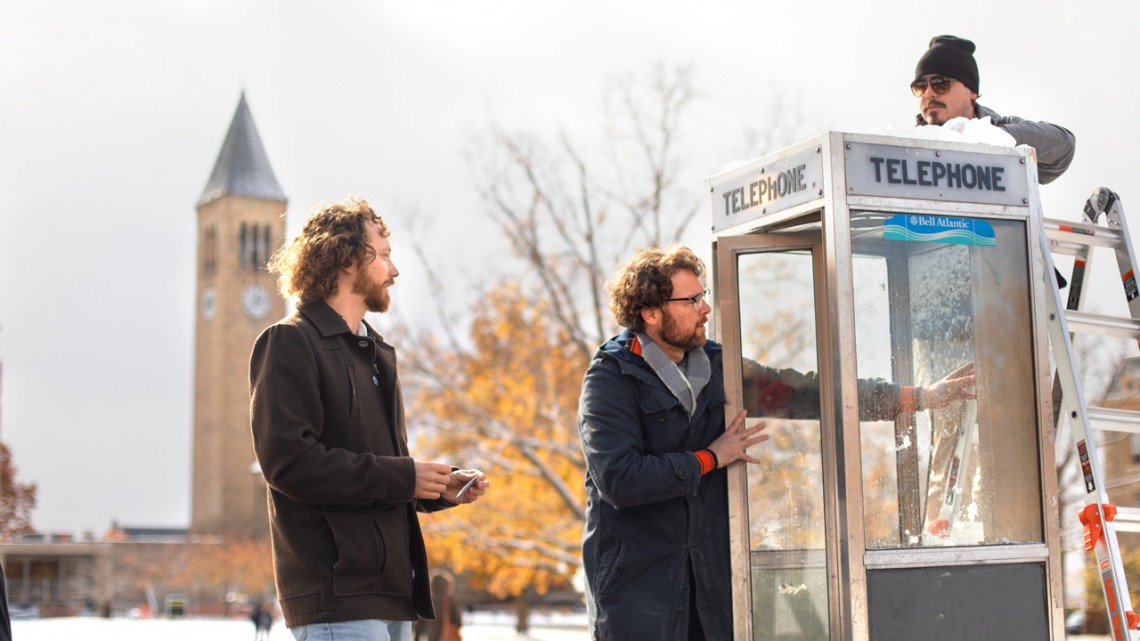 Chris Hoff '02 and Sam Harnett have spent the semester on campus just listening – listening to fish, frogs, Latin speakers, particle accelerators, organs and synthesizers, ice skates and even dirt.
The duo, creators of "The World According to Sound" radio show and podcast and Cornell artists-in-residence, will share what they've found during four live audio shows Nov. 20-21 at the Flex Theater in the Schwartz Center for the Performing Arts.
"Cornell According to Sound" is the second event in the College of Arts and Sciences' Arts Unplugged series, which brings artistic and creative works into the public sphere for discussion and inspiration.
"I have been doing sound studies in the humanities for nearly 20 years, but until the WaTS guys arrived on campus I had no idea, for instance, that the world of bees was a sonic world," said Trevor Pinch, professor of science and technology studies and one of the event organizers. "The show they are planning is a stunning sonic experience and connects multitudinous sites of sound on campus together for the first time."
Hoff and Harnett are on campus this semester as part of Cornell's multidisciplinary Media Studies Initiative, which supports research related to the interdisciplinary field of sound studies, as well as courses, graduate groups, a monthly colloquium and a newly launched media studies minor. The initiative also supports conferences, including two this year – "Siren Echoes," Nov. 7-9 and "Media Objects," March 20-21, 2020.
"I find a certain novelty and inherent interest in listening to the world," Hoff said. "Music is not the world, nor is language – they are both approximations. Ants are the world. So are bridges and auditory hallucinations and crazy religious people speaking gibberish to get closer to the divine. Those things are real. They are reality. They are the world."
During the semester, Hoff and Harnett met with professors whose research focuses on sound and media and explored Cornell's sound-based collections and music. They've discovered an array of other fascinating sounds related to the university's broad areas of study.
Along with their research, Hoff and Harnett have worked with various classes and groups on campus, including students in the Milstein Program in Technology and Humanity. They did a recording workshop with the Milstein students, then sent them out to various locations, on campus and off, to record an evening chimes concert.
"The idea was to make a simultaneous recording of one specific and iconic event at Cornell from many different perspectives," Hoff said. "The sonic landscape at 6 p.m. on Ho Plaza is dominated by the chimes, but in Collegetown they're ever so faintly audible, and instead the sounds of traffic and people talking dominate." These sounds will be in the November shows.
During the shows, Hoff and Harnett will set up a ring of speakers, pass out eye masks, shut off the lights and surround participants with sound. The events, at 5 and 8 p.m. each night, are free, but space is limited and tickets are available on Eventbrite .
"Listeners to NPR or to podcasts are used to hearing nonverbal sound as background, ambient 'mood-setting' information," said Jeremy Braddock, associate professor of English and chair of the Media Studies Initiative. "Chris and Sam's approach has us experience sound, listen in a more deliberate way. Listening in the dark, and collectively, can be an almost a revolutionary act in a world that responds to increasing noise with the isolation of noise-canceling headphones."
To preview the show, the team will be setting up a number of pop-up listening stations at locations around campus where they have captured sound, to increase awareness about the role and impact of sound in our lives. They're encouraging people to find each station, snap a photo and share their thoughts on Instagram.
"The listening stations will give you a little taste of the kind of sonic experience you will get at the show; although listening by yourself in one of the stations on campus pales in comparison to what you will feel sitting with 100 other people in complete darkness, surrounded by powerful speakers," Harnett said.
The event is also sponsored by the Media Studies Initiative and the Departments of English and of Science and Technology Studies. Hoff and Harnett's residency is sponsored by the Media Studies Initiative, the Society for the Humanities, the Cornell Lab of Ornithology, the College of Arts and Sciences, the Milstein Program in Technology and Humanity, the Faculty of Computing and Information Science, and Cornell University Library.
This story was previously published in the Cornell Chronicle