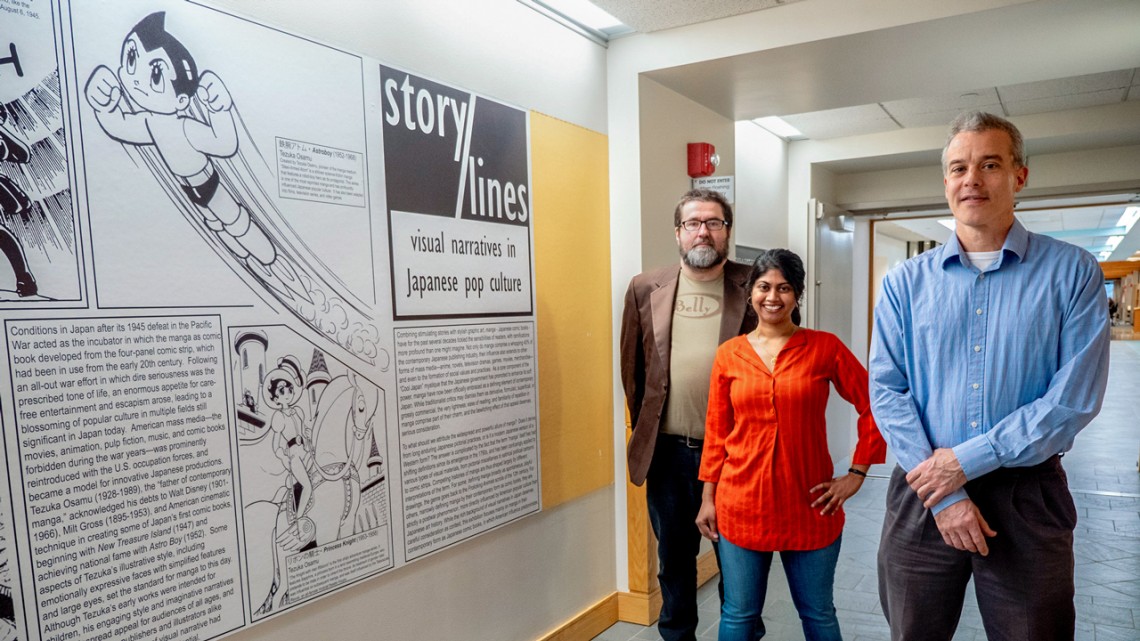 At Kroch Library's Asia Collections, visitors can step into the comic-book universe of the manga genre through the new exhibit Story/Lines: Visual Narratives in Japanese Pop Culture.
"Japanese comic books are incredibly popular among library users, so we wanted to draw visitors into reflecting more deeply on their nature and history," said Dan McKee, exhibit co-curator and Japanese bibliographer.
"Apart from a strong educational point, we wanted to do something that was visually striking and, most of all, fun," added exhibit designer Karl Rozyn.
The eclectic images, books and other artifacts on display were selected from the library's holdings of Japanese comics and related materials. There are precursors of manga (including a 14th-century picture scroll with speech bubbles) alongside classics such as "Astro Boy," "Akira" and "Sailor Moon." Works of fan fiction share display cases with manga franchises that spawned animations, cosplay costumes and collectible figurines. Manga epitomizing "kawaii" ("cuteness") and girlishness are juxtaposed with subgenres that challenge gender norms, including the same-sex romance comics known as "boys' love," created by female authors for a female readership.
"Given the importance of gender in manga, queerness needed to be represented in the exhibit," said co-curator Aparna Ghosh, administrative supervisor for the Echols Collection , who researched sexuality and gender in manga as an undergrad. Ghosh said she hopes the exhibit will inspire Cornell students to use the library's extensive manga collection for both entertainment and scholarship.
Story/Lines runs through July 15.
This article also appeared in the Cornell Chronicle.