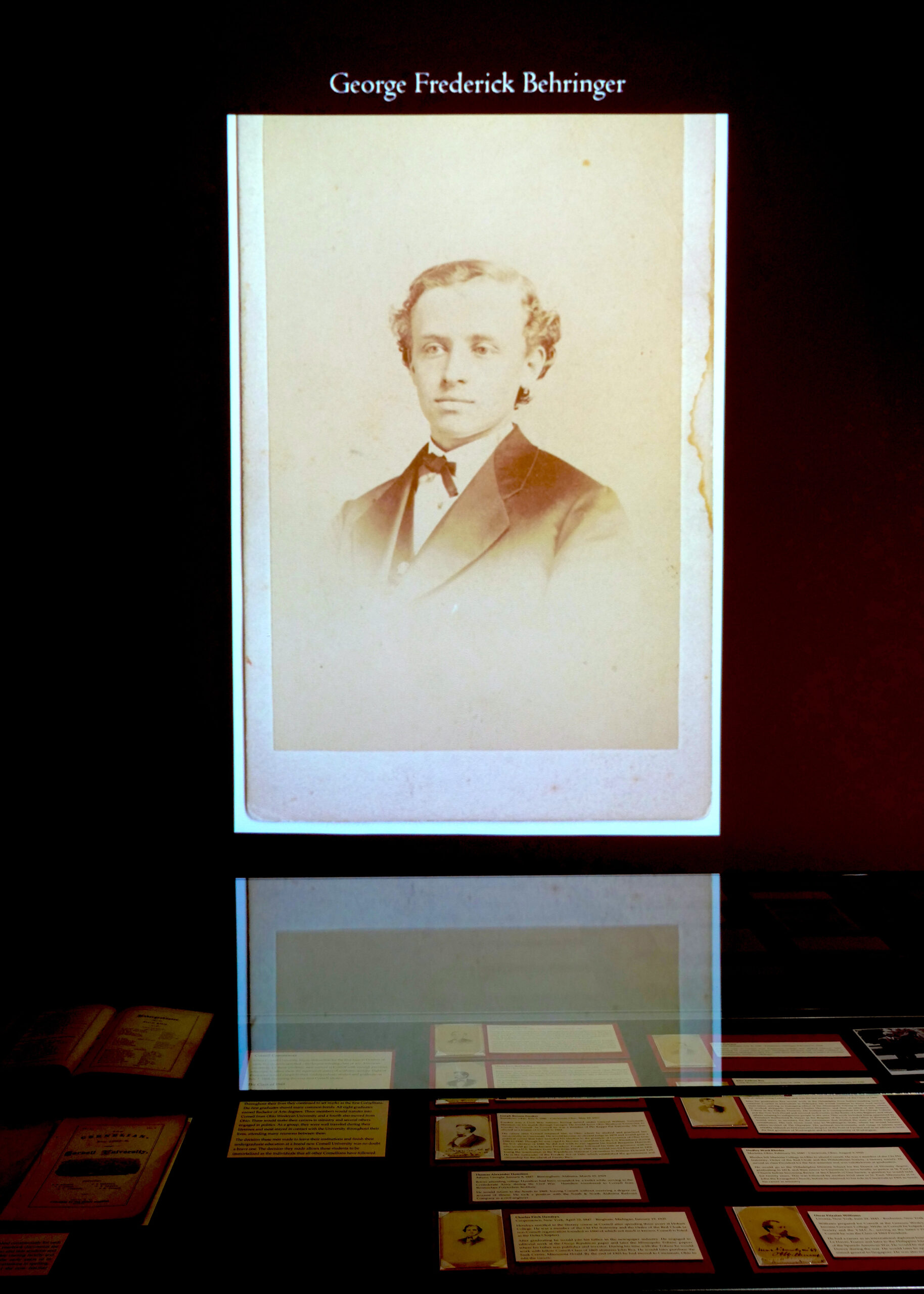 At Cornell University's first Commencement, on July 1, 1869, President Andrew Dickson White handed out diplomas in alphabetical order to eight students – and George F. Behringer entered the history books as the first Cornell graduate. A hundred fifty years later, Behringer's diploma comes full circle as the centerpiece for Cornell Commences, an exhibit at Cornell University Library's Division of Rare and Manuscript Collections (RMC), which opened this week to coincide with the university's graduation celebrations.
Archival materials related to the first Commencement and the graduating Class of 1869 are on display. The schedule of exercises, the ticket, photographic portraits of the graduates, news articles, the class yearbook, and other ephemera hold their place alongside the diploma donated to the Cornell University Archives in 1955 by Behringer's granddaughter, Edna Schoonover, Class of 1930. The exhibit also captures pivotal moments during the four-day Commencement festivities, including the laying of the cornerstone for McGraw Hall and the gift of the "Great Tenth Bell," which became the clock bell in McGraw Tower that has chimed every hour for generations of Cornellians.
Cornell Commences also outlines the biographies of the eight graduates, who had all transferred to Cornell with enough credits to complete their degrees in the first year of the university's opening. As the exhibition text notes, the first Cornellians went on to chart illustrious careers – from governor to pastor, newspaper editor to diplomat – and they forged a bond with each other, regularly returning for their Reunions.
As the university community honors the 5,500 students expected to receive their degrees this weekend, RMC will hold an open house, Saturday, May 25, 1–4:30 p.m., on level 2B of Carl A. Kroch Library. Curators Evan Fay Earle and Lance Heidig will host the event and give visitors more information about the first graduation and the small group of original Cornellians, once celebrated by local newspaper The Ithacan as "the immortal eight who are the firstborn of Cornell."
Supported by the Stephen E. '58, MBA '59 and Evalyn Edwards '60 Milman Exhibition Fund, "Cornell Commences" runs through September 13.