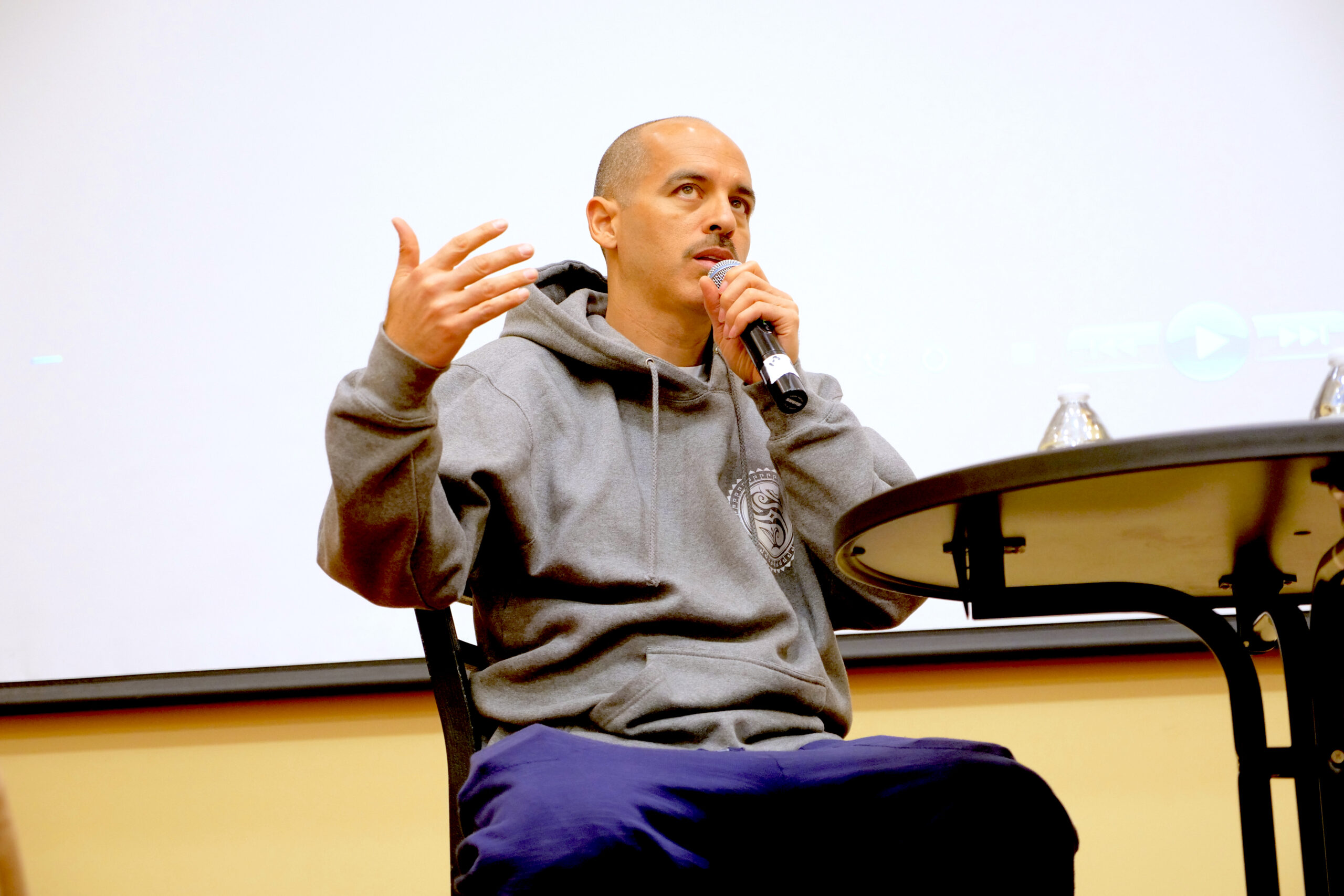 As his autobiographical documentary Rock Rubber 45s played in the Africana Studies and Research Center auditorium, Nov. 6, Bobbito Garcia was in Helen Newman Hall, doing what he loves: shooting hoops, he told the audience at the Q&A after the screening.
It was no surprise to the crowd of Cornell undergrads and faculty members, middle school kids and die-hard fans from as far away as Camden, New Jersey. Scenes of Garcia playing basketball were intercut throughout the film—from his childhood to the present—connecting his varied pursuits as a popularizer of street basketball, club DJ, hip hop aficionado, sneaker culture pioneer, writer and filmmaker.
Long before finding fame as co-host of the influential radio show "Stretch and Bobbito" (which featured then-unknown artists like Wu-Tang Clan), or syndicated columnist for Vibe magazine (where he interviewed athletes including Michael Jordan), Garcia was an awkward child of Puerto Rican parents in upper Manhattan, New York City. He was bullied by peers and exposed to alcohol and drugs. He was also the victim of sexual abuse, he revealed in the film. Garcia found a way to build his self-esteem, hone his basketball skills, and explore his love of music with the support of mentors and friends—from his hoop-shooting idol at the playground to his varsity teammates at Wesleyan University.
At the Q&A, Garcia named other personal heroes not mentioned in "Rock Rubber 45s," including Puerto Rican baseball player Roberto Clemente, who was involved in humanitarian efforts in Latin America and the Caribbean. Garcia considers Clemente a role model for his work with not-for-profit organizations like Hoops 4 Hope, which educates disadvantaged communities in Zimbabwe and South Africa.
As the discussion delved into Garcia's other loves—record-collecting and sneakers—the audience shared stories of fandom. An audience member said he vividly remembers listening to the first episode of Garcia's radio show. Another recalled a visit to his short-lived but influential boutique sneaker store in New York City. Eldred Harris JD '94, a member of Ithaca City School District's Board of Education who grew up in New York City, talked about frequenting the sites shown in the film and awakening to socio-political realities: "Music in the park was spiritual to us. The hoops were spiritual. These were places we used to heal our broken hearts."
The event was organized by the Cornell Hip Hop Collection.
This story also appeared in the Cornell Chronicle.