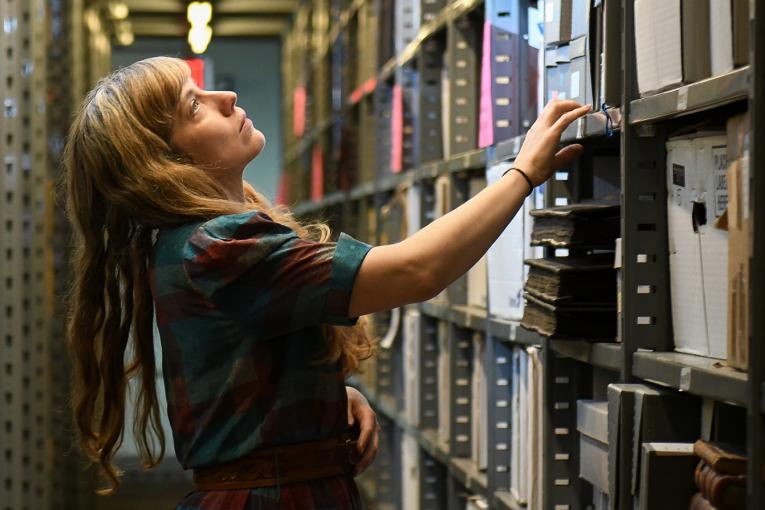 It's a job that seems perfectly designed for her. "It doesn't even feel like a choice," says Marcie Farwell, the inaugural Gordon and Marjorie Osborne Textile Industry Curator. "It feels like fate."
When the American Textile History Museum closed in 2017, its library holdings came to the Kheel Center for Labor-Management Documentation the unit of Catherwood Library that collects, preserves, and makes accessible special collections pertaining to the history of the workplace and labor relations. The Gordon and Marjorie Osborne Foundation, a long-time supporter of the museum, endowed the curator position to ensure the collection continues receiving dedicated attention. Farwell brings passion and extensive knowledge to her work every day.
She started sewing her own clothing in high school and, after college, landed a job with a boutique wedding dress designer. Much of the work was hand sewing, but Farwell vividly recalls accompanying the designer to fabric and trim shops to browse sample books and select fabrics. The sample books in the museum collection are just as exciting to her. "We would look through the sample books and say we want this fabric in this color and this color. The sample books in the archive are the same; they are massive but recognizable books relating the story of what's been happening in textiles for a long, long time," Farwell explains.
The jobs that followed also involved textiles; Farwell managed a yarn store and taught textile-related courses at craft boutiques in both San Francisco and Brooklyn. Working with manufacturers, identifying trends and learning what customers cared about deepened her knowledge of the industry. Prompted by her love of research for her artwork in textiles and a friend's suggestion, Farwell earned her master's in library science at Queens College, City of New York, with a certificate in archives.
Needing to do an internship, she felt called to Cornell University Library's Rare and Manuscript Collection having visited to fulfill an earlier assignment. But, her proposed internship was four hours from Queens, and the site visit manager balked at the idea of traveling to Ithaca to approve the site. In a winning proposition for both sides, Farwell organized a personal tour of Ithaca-area fabric shops for the manager, an avid quilter.
Now in her second month at the Kheel Center, Farwell is focused on processing and describing items, an imperative since researchers have already been inquiring about the collection, which includes approximately 90,000 books, periodicals, manuscript collections, photographs, textile sample books, tintypes, glass plate negatives and trade catalogs that tell the story of the American textile industry.
"These records document businesses that employed thousands of women and men in mill towns across New England and beyond during the late nineteenth and twentieth centuries. They augment and complement the Kheel Center's exemplary holdings, furthering our distinction as one of the country's leading archives of the workplace and labor relations," explains Wesley Chenault, Kheel Center director.
Farwell is investigating the best way to preserve ledger books and other business records. She is also reaching out to institutions that accepted other museum materials with the intention of creating a tool that links the materials with their current locations in order to preserve the ownership history and to further facilitate research needs.
The comprehensiveness of the collection excites Farwell as she envisions future collaborations with ILR School faculty, with scholars in various fields of study and with other Kheel Center and Cornell collections. "For example," she says, "we now have company records that coincide with union records already in the Kheel Center, and we will be able to look at specific events from both sides." Farwell is particularly interested in how threads from the textile museum collection can be woven into research in unexpected ways. For an archivist whose background is a microcosm of the textile industry, it might indeed be fate.
—Written by Jessica Withers and also published in the ILR School website