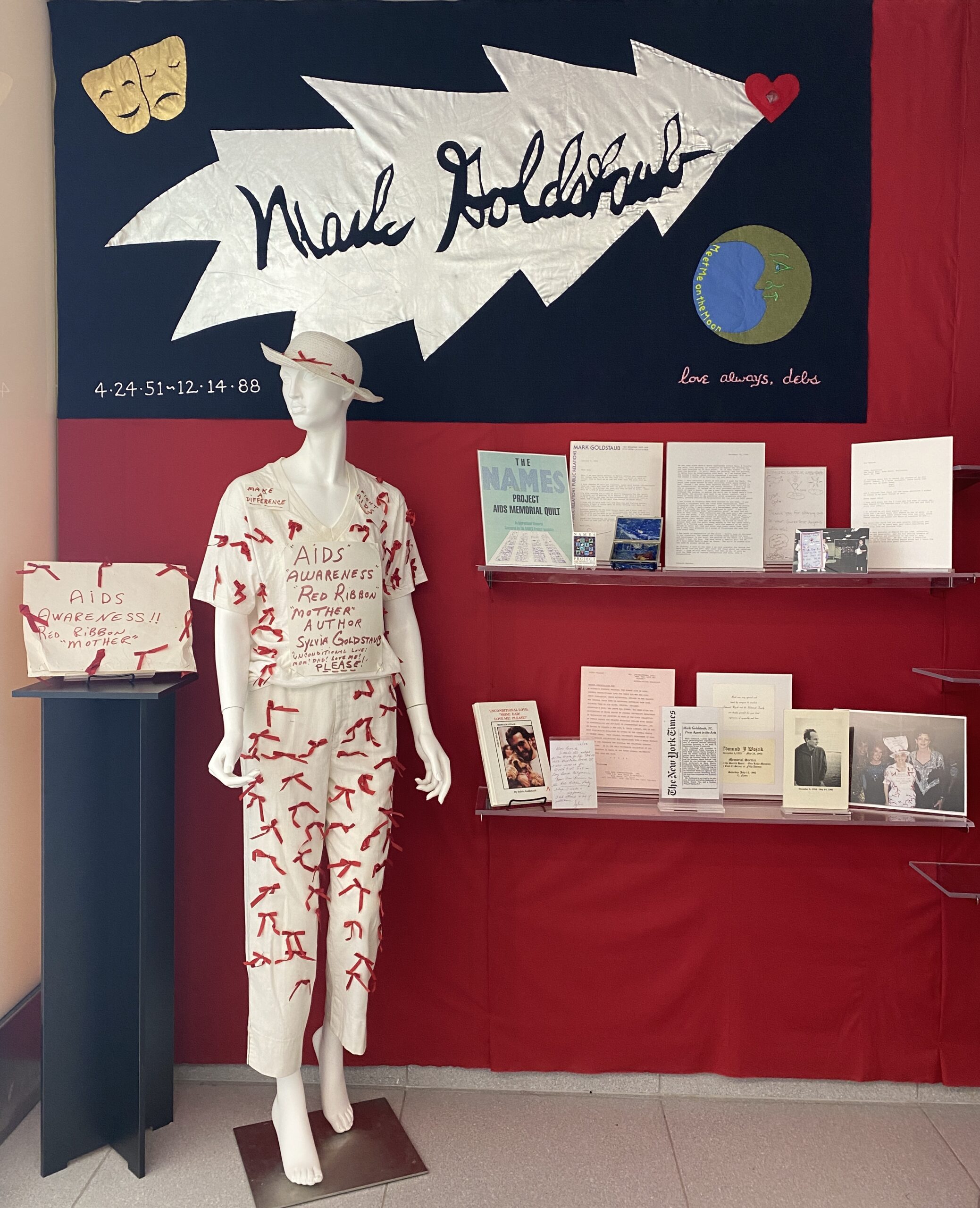 Visiting Cornell University Library's Division of Rare and Manuscript Collections in 2017 to see materials related to the history of HIV and AIDS, Michael Mamp was caught off guard by the contents of one box.
In the container, part of archives donated by Sylvia Goldstaub and her husband, Bernie, was a jacket that belonged to their son Mark, who died of AIDS-related complications at age 37 in 1988. Alongside it were Sylvia Goldstaub's white shirt, hat and pants that she'd covered with slogans and red ribbons and wore as a public memorial to her son.
"The physicality of mother and son packed into this box – one who had passed away and the other one who then mourned him and turned that into a form of activism – was very overwhelming to the point that my husband and I both had to sit down," said Mamp, a professor of textiles, apparel design and merchandising at Louisiana State University.
"Sylvia saved all of the ephemera related to her activities and involvement with HIV/AIDS activism and various organizations including PFLAG [formerly known as Parents, Families, and Friends of Lesbians and Gays], along with a few other garments, including her son Mark's yarmulke and prayer shawl, and a whole collection of home movies," Mamp said. "It's a really rich repository."
Last fall, Mamp started collaborating with College of Human Ecology associate professor Denise Green and Cornell Human Sexuality Collection curator Brenda Marston – who had introduced him to Sylvia Goldstaub's collection – on an exhibit titled Threads of Life, Love, and Loss: An HIV/AIDS Story.
Opened on Aug. 15 and running through Dec. 2 in the Human Ecology Commons and Level T display cases, the exhibit features garments, accessories, documents, ephemera and film from the collection of Sylvia Goldstaub, who died in 2017. Other pieces on display come from the Cornell Fashion + Textile Collection, the National AIDS Memorial and friends and families of Mark and his partner, Edmund Wojcik, who died of AIDS-related illness in 1995.
A reception at the Human Ecology Commons with a screening of a documentary by Green is scheduled for Oct. 13 at 5 p.m.
"In exhibitions about HIV/AIDS, there tends to be an emphasis on loss, which of course is so important in an ongoing global health crisis that has taken many millions of lives," said Green, an associate professor in the Department of Human Centered Design and the director of the Cornell Fashion + Textile Collection. "But we're here to also tell the story of life and love – the love of two men for one another; the love of friends for the friends they lost; and the real impetus of the whole exhibit, the love of a mother for her son and her effort to ensure other parents continue to love their children no matter what."
The exhibit also features quilt panels on loan from the National AIDS Memorial Quilt, which includes the appliqued names of Mark Goldstaub and Wojcik.
The quilt is a powerful reminder of the immensity of the ongoing crisis of HIV/AIDS, Mamp said.
"It's an interesting time for us to be looking at the impact of this global HIV/AIDS pandemic in the context of the COVID-19 pandemic," he said. "We've made such progress in such a short amount of time regarding the fight against COVID-19, but it's taken much longer to make progress related to the fight against HIV, and I think the stigmatization is still there."
Threads of Life, Love, and Loss is the first exhibit of Threads of History: Textiles at Cornell, a series organized by Cornell University Library, which highlights different collections and topics related to textiles and clothing – from the plight of enslaved people toiling in the cotton fields to labor unions organizing in garment factories. Threads of Life, Love, and Loss was funded by the Laurie Conrad Music and Arts Fund of the Community Foundation of Tompkins County and the Cornell Council for the Arts (CCA), and it is part of this year's CCA Biennial.
"The point of these exhibits is to try to amplify voices that we might not have heard before," said Marcie Farwell, the Gordon and Marjorie Osborne Textile Industry Curator at the Kheel Center for Labor-Management Documentation, who is coordinating the series of exhibits, "and demonstrate the rich and diverse resources available at Cornell that we can draw from to tell these stories."
More details and a calendar of upcoming exhibits can be found at the Threads of History website.