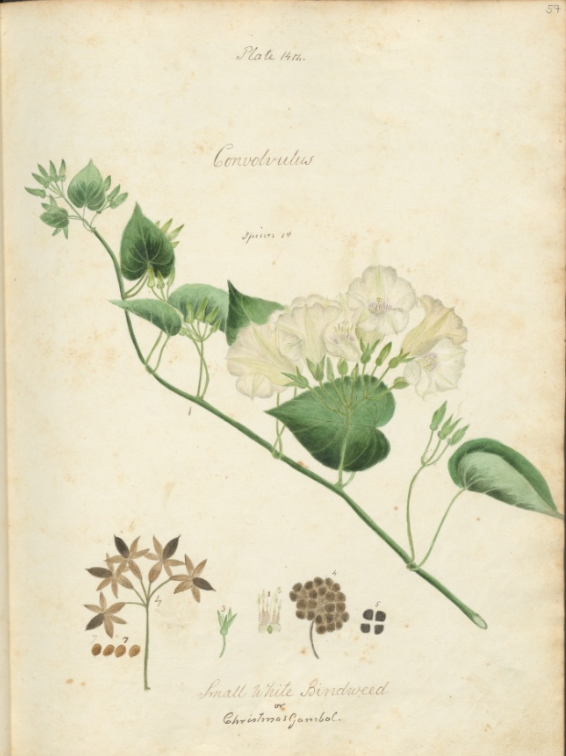 Out of the millions of titles freely available through online repository HathiTrust, five books digitized and uploaded by Cornell University Library made it to the ten most read in 2019 .
At the top of the list are two volumes of Anne Kingsbury Wollstonecraft's Specimens of the Plants and Fruits of the Island of Cuba (accessed by nearly 13,000 users, combined), digitized from the original manuscript kept in the Division of Rare and Manuscript Collections. Other books in the top ten were Ancient Egyptian Medicine: The Papyrus Ebers , a volume from the American Civil War compendium The War of the Rebellion , and the three-act comedy The Mistress of the Inn .
Founded in 2008, HathiTrust is a not-for-profit partnership of academic and research institutions, which preserves digitized books, journals and other print materials, and makes them as accessible as possible under copyright law. HathiTrust Digital Library (HTDL) currently holds more than 17 million books, and about 38% of its holdings are available in full view, either through Creative Commons licensing or because they are in the public domain.
Cornell University Library joined HathiTrust in 2010, and it has deposited 599,739 titles to HTDL date, with 1,438 books in January 2020 alone.
Texts on HTDL are indexed in their entirety. "Unlike the traditional catalog where you're accessing only the metadata that describes the book, you can actually search all the words within the book," explained Michelle Paolillo, the Digital Lifecycle Services Manager and HathiTrust coordinator at Cornell University Library.
Through HathiTrust Research Center, scholars can also apply computational analysis on large sets of digital text to discover trends. For example, the corpus of available 19th century literature can be analyzed to reveal common themes. Researchers can also use algorithms to help classify the genre of a given work or to analyze how literary language changes over time.
Paolillo said that, through the partnership with HathiTrust, Cornell University Library is helping preserve books that are vulnerable to physical wear and expand access to materials that are too rare for general circulation.
In addition, full access on HathiTrust expands every year as the copyright expires on certain works and they are moved from limited to full view. For example, out of Cornell's almost 600,000 books contributed to HathiTrust, 1,560 became fully viewable by Public Domain Day this year.
"Together, we're building tomorrow's library," Paolillo said.