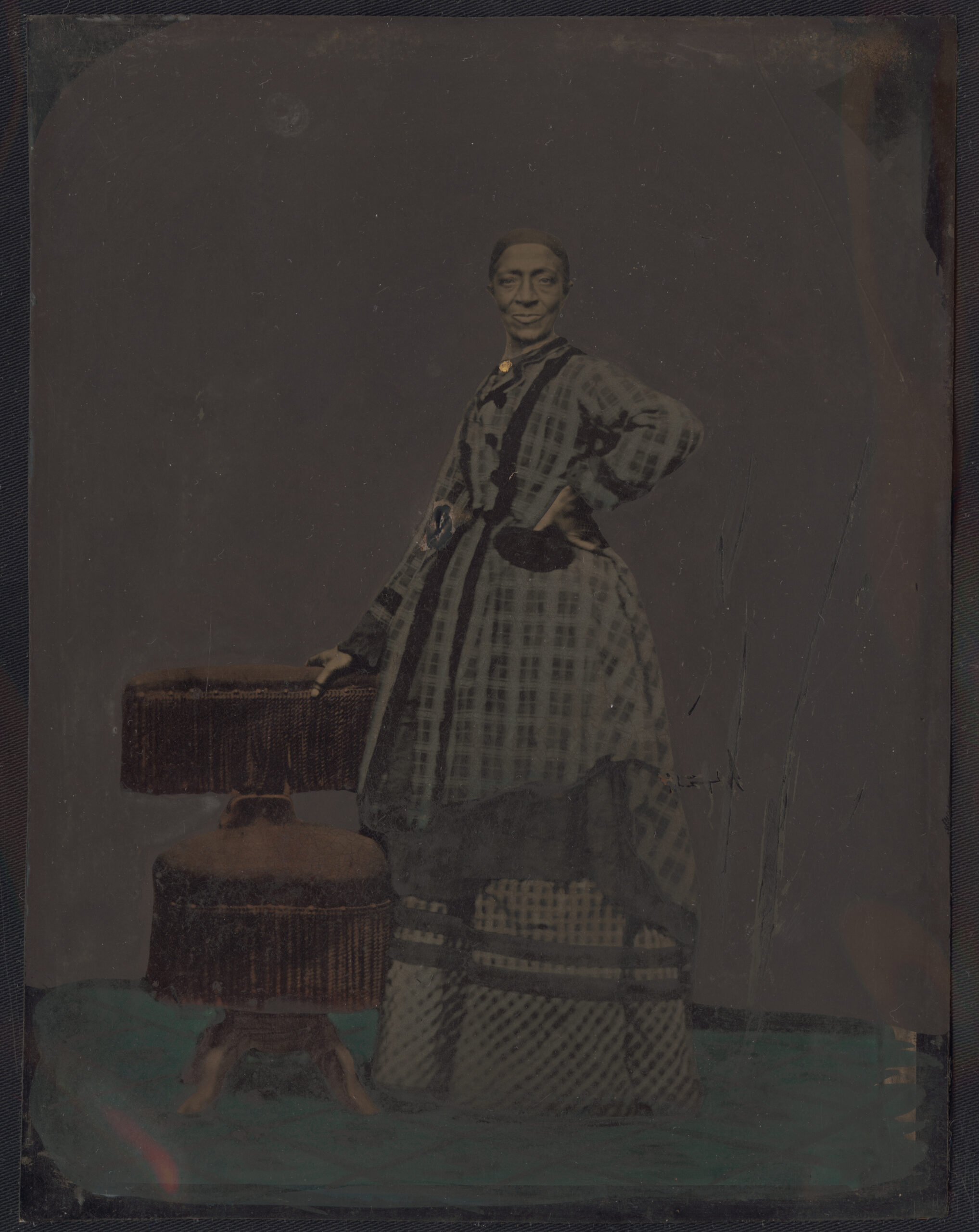 "Marguerite, a former slave," is all that's known of the striking image of a woman in a green dress in Cornell University Library's Loewentheil Collection of African-American Photographs.
But the woman's pose, gaze and clothing tell a rich story of creativity and self-determination, said Tamika Nunley, associate professor of history in the College of Arts and Sciences (A&S).
"It's not far-fetched that Marguerite made that elaborate dress herself or selected it for herself in contrast to the coarse, shapeless garment that plantation owners purchased for enslaved people to wear," she said.
Marguerite embodies "what self-fashioning looked like from slavery to the transition to legal emancipation," said Nunley, who contributed to the exhibit Social Fabric: Land, Labor, and World the Textile Industry Created, which opens Oct. 27 in the Hirshland Gallery of Carl A. Kroch Library.
Social Fabric features individuals like Marguerite and other people and places that supported the textile industry in the U.S. throughout the 19th and 20th centuries. The exhibit also connects past struggles for better working conditions to present-day international efforts toward social justice and environmental sustainability in the textile industry, according to Marcie Farwell, the Gordon and Marjorie Osborne Textile Industry Curator, who organized the exhibit.
"You cannot weave this tale without the weft of the landscape on which it was built, the waterways on which it depended, and the people and wildlife that it displaced," Farwell wrote in the exhibit notes. "The warp are the threads of the institution of slavery as well as the labor of children, women, immigrants and prisoners."
Different parts of the exhibit are dedicated to highlighting these communities and topics. They include a display case about incarcerated laborers, curated by Claudia León '23, an American studies major in A&S, as part of her RAD Public History Fellowship project.
With artifacts and documents spanning 400 years of history, the exhibit draws from several archives of Cornell University Library, including the newly acquired American Textile History Museum Osborne Library Collection, the Kheel Center for Labor-Management Documentation and Archives, and the Division of Rare and Manuscript Collections.
Social Fabric runs through Sept. 1, 2023. It is part of a series of exhibits organized by Cornell University Library titled Threads of History: Textiles at Cornell.
This story also appeared in the Cornell Chronicle.