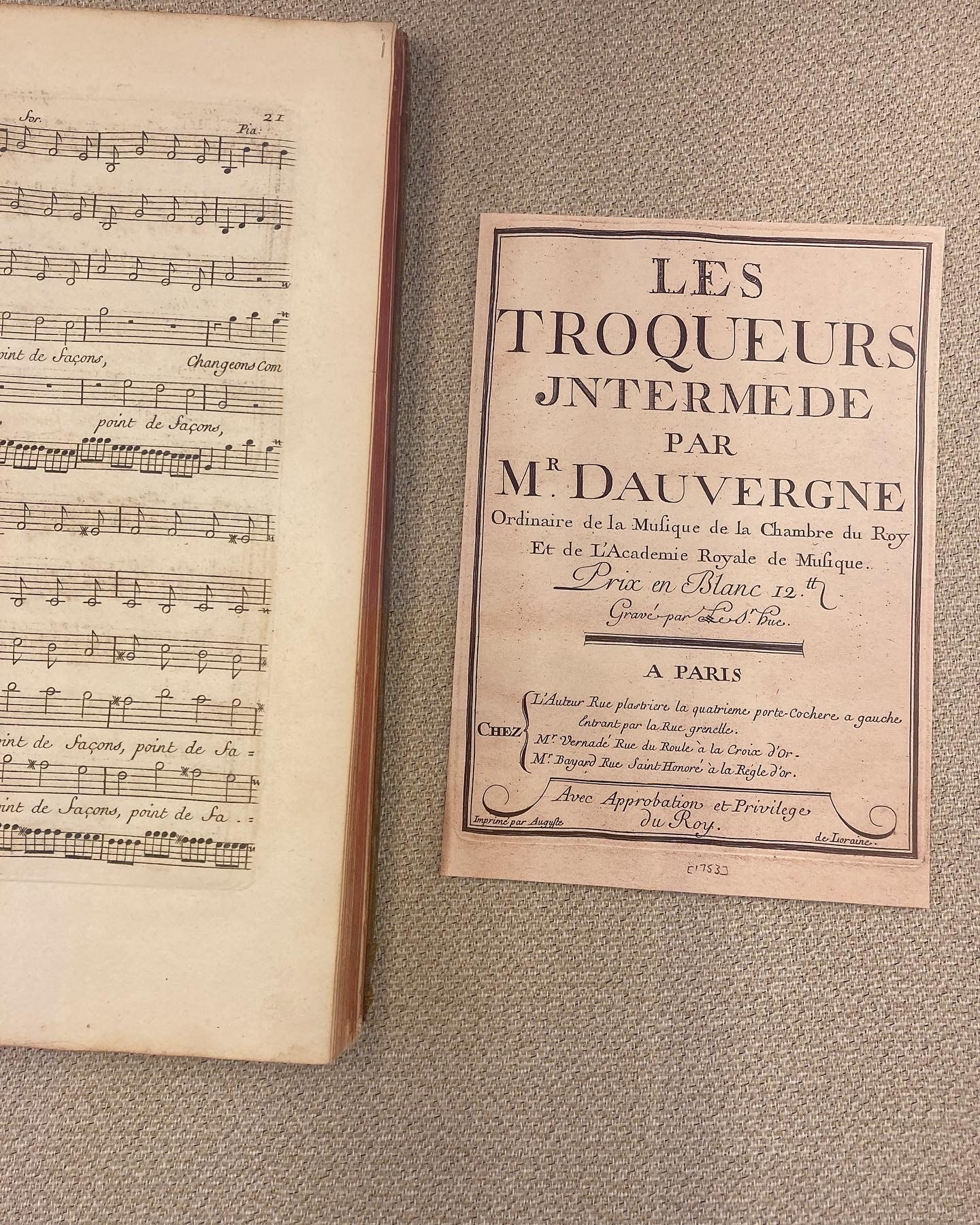 Drawing on Cornell University Library's deep holdings in eighteen-century opera, an exhibit in conjunction with The Pleasures of the Quarrel performance is now open at the Sydney Cox Library of Music and Dance. In addition, a pop-up exhibit is coming to Carl A. Kroch Library on March 19, from noon to 4 p.m.
The performance, talk, and sneak peek illustrate the Parisian operatic rivalries that erupted in 1753 in the Querelle des Bouffons ("Quarrel of the Buffoons"), a passionate war of words between adherents to an old, erudite French theatrical style and supporters of a newer, wittier Italian style of "opera buffa." The Querelle des Bouffons unfolded against a background of heated and colorful artistic creativity.
Starting on the main floor of the Music Library, visitors of the exhibit will find two original Parisian engravings from 1753 representing both sides of the question. On the one hand, Titon et l'Aurore epitomizes the tradition of "tragédie en musique," an opulent lyrical genre with plot and characters drawn from classic mythology. On the other, Les Troqueurs ("The Swappers") mimics the latest, breeziest Italian musical taste, adapting it to French comedy with a thoroughly up-to-date storyline. Costume illustrations complete the exhibit and help the spectator picture the operatic scenes of the time.
On the upper level of the Music Library, visitors can also appreciate two works by Rameau, who was widely regarded as the greatest flag-bearer of the old style and an outstanding opera composer. His Pigmalion is a one-act opera-ballet of 1748, and Platée is a three-act "comédie lyrique" of 1749. Nearly forty years later, Lorenzo Da Ponte may have been inspired by the storyline of Les Troqueurs in writing the libretto for Mozart's opera-buffa masterpiece Cosí fan tutte (1789): both plots feature young men swapping fiancées, but Da Ponte's story presents a more elaborate variant of the plot. All items displayed on the top two shelves are original engravings.
For those interested in learning more, items related to the show including 18th-century dance manuals, scores, librettos, and dictionaries of music will be displayed in the Division of Rare and Manuscript Collections at the March 19 pop-up exhibit. Opera aficionados are welcome to attend a "Midday Music" event on March 24 offering a preview of The Pleasures of the Quarrel, to get a sneak peek of the main show.