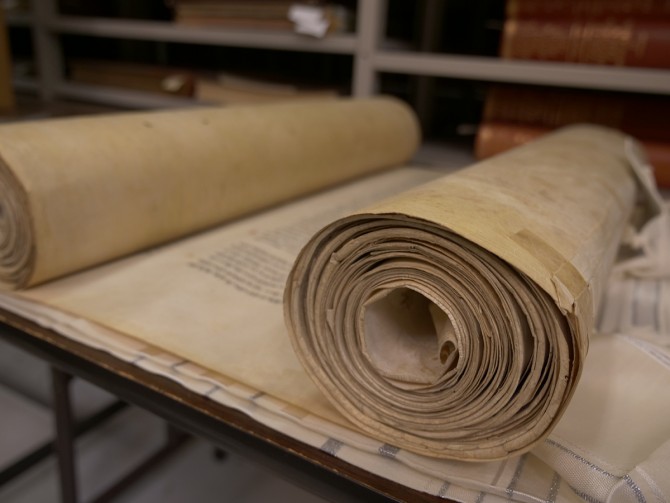 A newly arrived collection of Jewish books containing fables, with around 400 volumes spanning six centuries, will enrich Jewish studies at Cornell and cast light on the depth and breadth of Jewish civilization.
The collection, which includes a 15th-century Torah scroll and six volumes from the first complete printing of the Babylonian Talmud, was delivered to the Cornell University Library's Division of Rare and Manuscript Collections (RMC) earlier this month by Jon Lindseth '56.
"This is immense for us," said Jonathan Boyarin, the Mann Professor of Modern Jewish Studies. "It's a tremendous symbolic and material boost to the work we've been doing to develop a really multifaceted, interdisciplinary Jewish studies program at Cornell."
The books are in several languages, including Hebrew, Yiddish, Aramaic, Ladino (Judeo-Spanish) and Judeo-Persian. They were printed all over the world and include animal stories from the Hebrew Bible and other religious texts as well as translations of secular stories, such as Aesop's fables in Hebrew.
"The focus is on animal stories with moral connections, and Jon built this collection by finding every example he could of a Jewish fable, and then going back to the oldest, rarest sources he could find to illustrate those fables," said Patrick J. Stevens, selector for Jewish studies and curator of the Fiske Icelandic Collection. "These books show that there is much more to the use of Hebrew and Jewish vernaculars than the religious. You can see the flowering of an entire literary tradition."
Lindseth spent decades acquiring these books.
"Jon Lindseth is one of the greatest book collectors of his generation. His generosity to Cornell and its library has brought so many treasured collections – from historical documents on women's rights to unique manuscripts by Vladimir Nabokov to a new collection of underground comix," said Katherine Reagan, RMC's curator of rare books and manuscripts. "This is another spectacular example of his support of Cornell's research and learning."
The Lindseth collection of Jewish fables complements existing library materials relating to Jewish studies, including RMC's collection on the Haskalah – the 19th-century European Jewish enlightenment – and significant holdings on Jewish labor history in the Kheel Center.
Many of the books in the Lindseth collection were printed on poor-quality paper, reflecting the limited materials available to Jews and the rapid, inexpensive production common in some communities. Others were carefully bound and painstakingly illustrated.
"You can gain a lot of knowledge – material knowledge, tactile knowledge – about early modern Jewish culture from looking at these books, from smelling them and touching them and seeing the amount of work that goes into the typesetting and some of the illustrations," Boyarin said. "These things carry their history inside themselves."
A version of this story originally appeared in the Cornell Chronicle.