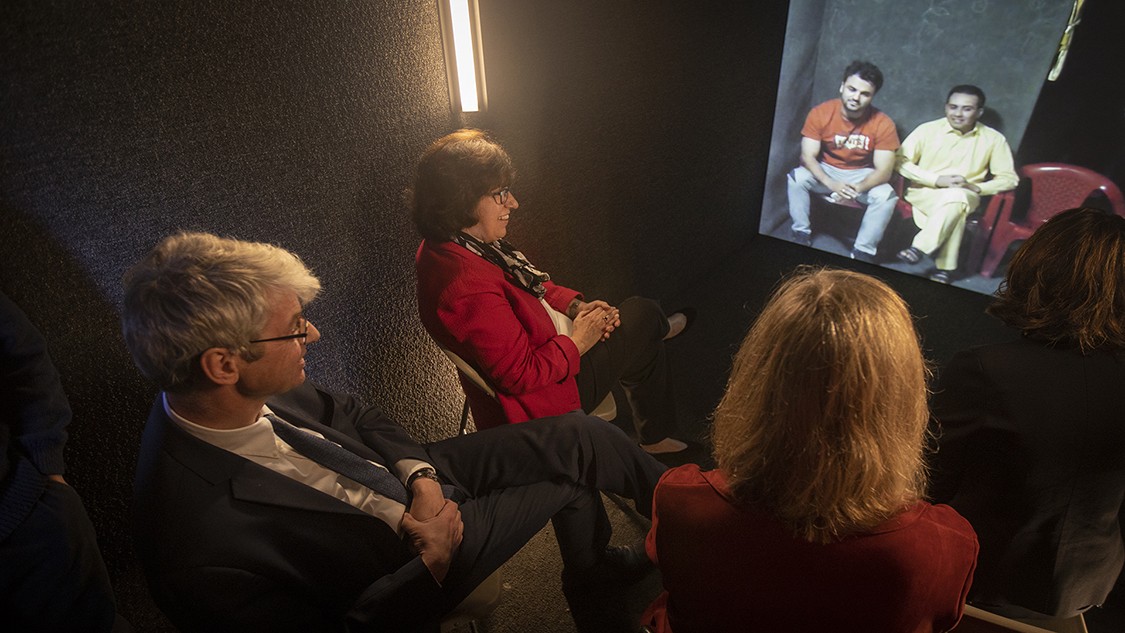 On a crisp and sunny morning, President Martha E. Pollack and a small group of Cornell leaders walked into a gold-painted shipping container outside Olin Library and were instantly transported to Herat, Afghanistan.
Known as the Cornell Portal, the shipping container helps "bring the world to Cornell and bring Cornell to the world" and offers the university community opportunities to share experiences and ideas with different cultures, according to Gerald R. Beasley, the Carl A. Kroch University Librarian. It is part of the Portals project, an immersive public art experience created by Shared Studios, with installations around the nation and in other countries—from Andover, Massachusetts, to San Pedro Sula, Honduras.
Joining Pollack and Beasley on Oct. 5 were Katherine McComas, vice provost for engagement and land-grant affairs, and Wendy Wolford, vice provost for international affairs. In the portal in Herat, Afghanistan, were representatives from Code to Inspire, which teaches girls computer coding, web developing and app making. The school was founded in 2015 after Herat broke free from Taliban rule, and it has taught an estimated 150 students to date, according to its website.
"We are not only teaching them; we are giving them opportunities to find jobs by giving them projects from companies inside and outside of Afghanistan," said Hasib Rassa, the school's project manager, who was joined by Aalem Daneshyar, a mentor in mobile app development.
"One of the coolest apps we have developed is the Afghan Backpack," Daneshyar said. Helping to counter negative impressions of the country, the app highlights cultural attractions, historical sites, and picturesque places for travelers. "It is for tourists who want to visit Afghanistan but don't know what to do or where to go."
The school's efforts to educate and empower women resonated with Pollack.
"I'm a computer scientist by training, and when I was much younger there were almost no women in the field," she said. "But since that time, it has changed a lot. Here at Cornell, engineering is about 50 percent women, and in computer science about a third are women."
As the Cornell chimes pealed at noon, more students walked in to join the conversation. One of them was computer science senior Samuel Opoku-Agyemang '19.
"I'm actually organizing a coding boot camp for high school kids in Ghana," he said. "My friend and I did it last winter break. We are going back this December, and we have two Cornell professors who want to go with us to teach coding to these kids, as well."
Recognizing a perfect opportunity for Opoku-Agyemang to continue a dialogue with Code to Inspire, Pollack suggested that he stay in touch with the school to learn about their best practices.
The Cornell Portal is coordinated by the Cornell University Library and sponsored by the Office of Engagement Initiatives and the Office of the Vice Provost for International Affairs. The Center for Teaching Innovation and the Office of Engagement Initiatives also collaborate with faculty in using the Cornell Portal to enhance course-based instruction, from exploring ethical issues in health and medicine to gaining insights about the connections between language and culture.
The Cornell Portal has been visited nearly 1,500 times since it opened in mid-August, and it will be open until Nov. 21. Learn more.
This story also appeared in the Cornell Chronicle.