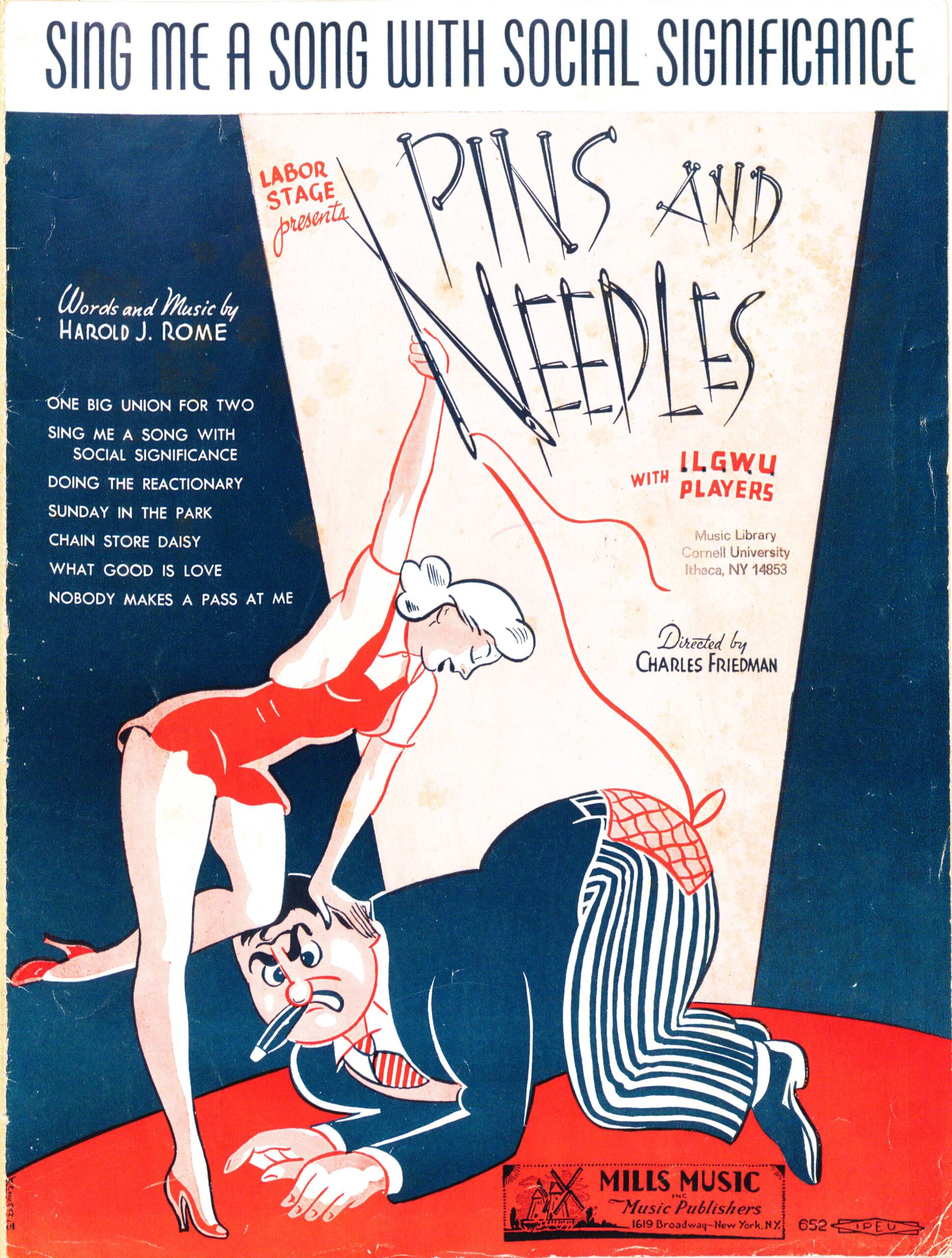 Librarians are known to be keepers of quiet. But, on Sept. 23 at 5:15 p.m., Caitlin Mathes and Bill Cowdery are hitting the piano keys and belting out songs to celebrate a new exhibit at the Sidney Cox Library of Music and Dance at Cornell.
Songs to Leave You in Stitches: The Story of the ILGWU's Musical Pins and Needles features images, documents, and recordings related to the pro-labor union production that premiered in New York City in 1937. At the exhibit opening, Mathes and Cowdery—who are also professional musicians—will perform a selection of songs from the musical comedy.
With lyrics like "Sing me a song with social significance/Or you can sing 'til you're blue/Let meaning shine from ev'ry line/Or I won't love you," the musical depicts American blue-collar life, romance, and politics in the 1930s, through a satirical lens.
The International Ladies Garment Workers' Union (ILGWU) commissioned composer-lyricist Harold Rome and gathered garment factory workers who had the interest, talent, and spare time to learn to sing and dance.
"They would be sewing and cutting during their day and then go to rehearsals all night," Mathes said. "It took them a full year and a half to be ready, and they only played weekends at first."
There are many interesting anecdotes and insights to share about the ILGWU cast and the beginnings of Pins and Needles, Mathes said.
"On opening night, all these wealthy people were at the Metropolitan Opera, which was near the Labor Stage Theatre [where Pins and Needles was premiering], and all their chauffeurs were just waiting around," she said. "The director asked the chauffeurs if they wanted to see the musical, and it was such a hit with them that they told their bosses. It just snowballed from there."
Mathes curated the exhibit by digging through the collections of the music library and the Kheel Center for Labor-Management Archives in Catherwood Library, all parts of Cornell University Library.
"It's unique that a labor union commissioned this super-successful musical, and it's great that we have such a wealth of material about this work," she said.
The exhibit charts the rise of Pins and Needles—from its original run in the 1930s to its popular revival in the 1970s and its 25th anniversary studio recording featuring Barbara Streisand—and describes the musical's enduring legacy.
The exhibit also makes connections between the struggles and joys of workers and their shifting times.
"Caitlin's research shows how closely Broadway and the entertainment world can mirror politics, social issues, and labor concerns of the day," said Cowdery. "Cornell has outstanding resources for bringing this sophisticated cultural web to light."
Songs to Leave You in Stitches runs through Dec. 23. It is part of series of exhibits organized by Cornell University Library titled Threads of History: Textiles at Cornell, featuring collections and topics related to textiles and clothing.
Jose Beduya is a writer, editor, and social media coordinator or Cornell University Library. This story also appeared in the Cornell Chronicle.