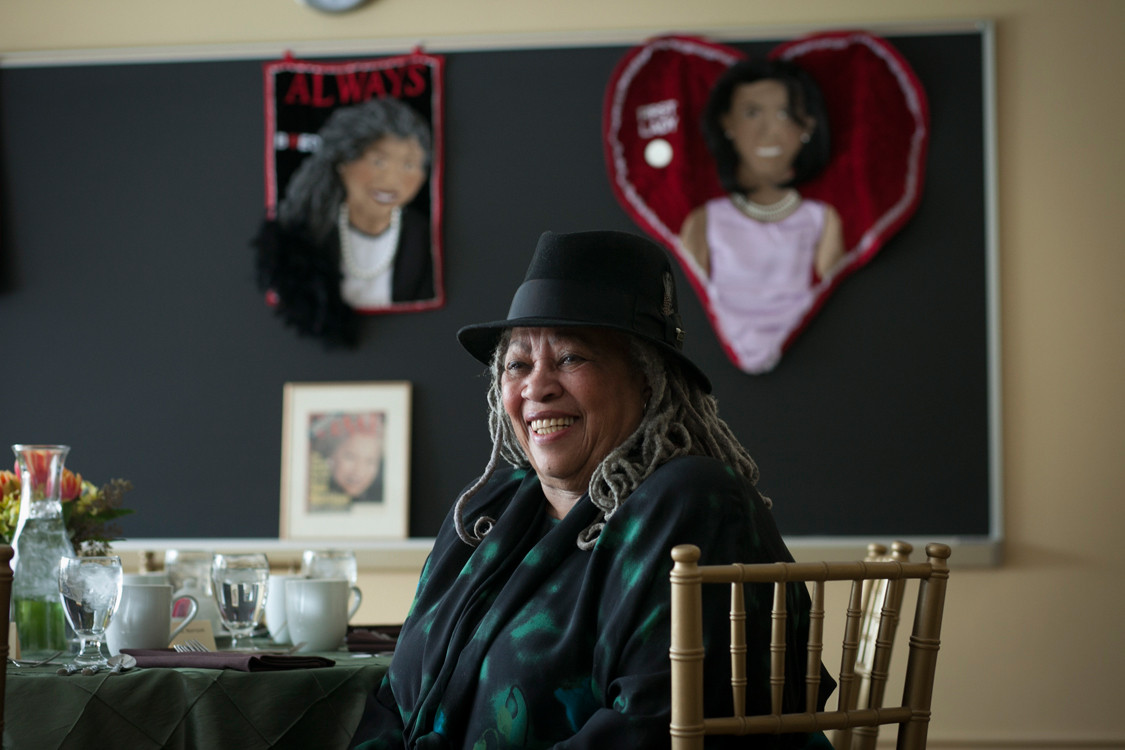 Celebrating the author's work and the community-building tradition of African American quilt-making, the Toni Morrison Quilting Project kicks off on Feb. 22, noon to 1:30 p.m., with a virtual quilting traditions workshop, featuring Ithaca-based fiber artist Heather Stewart.
Organized by Cornell University Library, Tompkins County Public Library, and the Community Quilting Resource Center, the Quilting Project honors Morrison's legacy and her deep connection to quilt-making. In her novel Beloved, for example, she used an heirloom quilt as a storytelling device to connect the different histories of its characters. And, in exploring the African American diasporic experience throughout her work, Morrison wove complex narratives from a patchwork of voices across time and space.
"Toni Morrison is one of the preeminent chroniclers of the African American experience and, much like quilt-making, she created beautiful, useful, and communal art out of the multiplicity and everyday experiences of her characters," said project co-organizer Camille Andrews, emerging literacies librarian at Mann Library of Cornell University Library. "We hope that our community today, in these difficult times, will find inspiration in her works and legacy as they participate in the quilting project."
The Toni Morrison Quilting Project runs through May, and Cornell and Ithaca community members are invited to participate remotely by making and donating quilt blocks and small quilts. Participants can drop off their creations at the Tompkins County Public Library lobby in downtown Ithaca, and Cornellians who are approved to be on campus can drop off their quilt pieces at the Africana Center lobby, Mann Library lobby, and Uris Library clocktower location. Participants can also create quilt squares out of paper and send pictures of them to be featured in an online gallery by emailing makerspace@cornell.edu. More details and resources can be found on this Cornell University Library LibGuide page.
Once collected, the quilt squares and small quilts will be donated to different local organizations and locations including the Toni Morrison residence hall, currently under construction on Cornell's North Campus.
Morrison earned her master's degree in American literature in 1955 from Cornell, and she received the Nobel Prize in Literature in 1993. She died in 2019.
"It is amazing that Toni Morrison lived in our community and that her education here in Ithaca contributed to her extraordinary writing," said Brigid Hubberman—CEO of the nonprofit Children's Reading Connection and a quiltmaker spearheading the development of the Community Quilting Resource Center—who is helping to drum up awareness about the quilting project. "It is wonderful to have an opportunity for the Ithaca and Tompkins County community to come together with quiltmakers at Cornell to shine light on the beauty of Morrison's legacy, stitching the most powerful words, wonder, and wisdom from her stories."
Other related Toni Morrison-related festivities include Celebrating Toni Morrison: A Community Book Reading and Conversation, via Zoom, on March 15, 7:00 p.m. (Register here.) An online and physical exhibit at Olin Library on Cornell campus is also being planned. Details about these and other events are updated in the Arts Unplugged page created by Cornell's College of Arts and Sciences.